Back
Research: INNOSETA - Innovative spraying equipment, training and advising - Half way there…
Explore the INNOSETA platform - where you can find a detailed database of latest technologies & training material!
***
It has been 18 months since the start of INNOSETA Thematic Network (http://www.innoseta.eu/), a Horizon2020 project on INNOvative Spraying Equipment, Training and Advising.
The University of Turin (UNITO) hosted the 4th Project meeting getting together 15 partners from 8 European countries. The Consortium discussed project progress made during the last 18 months, focusing also on the strategy for the implementation of future project actions. Final details for the European Commission mid-term review meeting in January have been fine-tuned.
Want to know more? Subscribe to INNOSETA Newsletter and keep in touch!
INNOSETA platform
The data collection, needs assessment and launch of the INNOSETA platform (https://platform.innoseta.eu/) have been highlighted during the meeting as the most important accomplishments. Comprising information on available spraying technologies, training and advising material, INNOSETA platform provides a quick glance and insight into the spraying innovations availability on the European level.
A total of 531 entries, including industry solutions, training and advising material as well as research papers are already available on the platform, for you to explore and assess (Figure 1).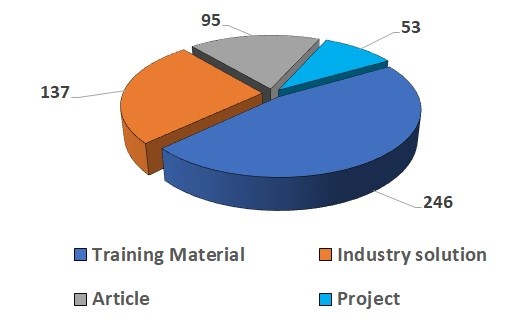 INNOSETA Platform statistics (December 2019).
Still not registered on the platform? Join the INNOSETA network. Upload your products and other material on SETAs and share your knowledge. Register here.