Back
Research: INNOSETA Platform – Where are we
New stats on the platform available
****
When was the last time you have visited INNOSETA platform, one-stop shop for information on spraying technology innovations to serve farmers, advisors, industry, researchers and students? Are your solutions among those already recognized as innovative spraying technologies?
The INNOSETA platform deals with all aspects related to crop protection, ranging from new developments to best management practices, including training and advising materials. Information on latest trends on innovative spraying technology tailored to your needs includes:
270 Industry solutions,
66 projects,
360 training material, and
163 articles.
and accessible in 8 different languages, already available to explore.
If while browsing you notice that something is missing or you are not satisfied with the description of your own product, you can register and add new or updated material for the benefit of European spraying community, while increasing the visibility of your products on Pan-European and worldwide level at the same time. An easy-to-use instruction video on the INNOSETA YouTube channel will support you in the process.
Still not convinced? Perhaps a short statistical overview will encourage you to explore in more details. So far, 116 Companies from 19 countries worldwide are already there. The top 10 countries provided 261 industry solutions out of 270 (Figure below, in %).
See also a statistical overview of the top 10 Companies already available on the Platform, providing 92 industry solutions in total.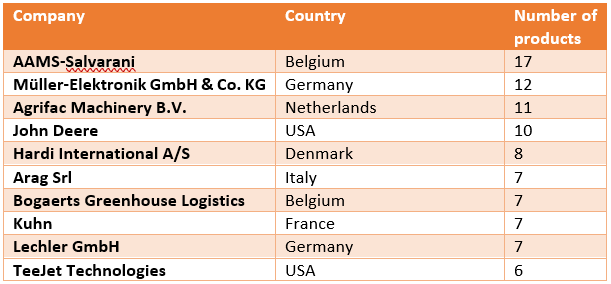 INNOSETA is still looking for new Industry solutions! Be part of the community and take the chance to discover the platform and become part of the INNOSETA network!
This project has received funding from the European Union's Horizon 2020 research and innovation programme under grant agreement no. 773864